Vagina Dentata Organ at the Centre Pompidou,Paris,France. 17/4/2013.
Thomas LaRoche will be accompanying Jordi Valls (Vagina Dentata Organ) for a live performance at the Centre Pompidou in Paris, France. Wednesday 17th April. Doors open 19:30h.
This is to coincide with the presentation of Albert Serra's latest feature film, "Els Tres Porquets" (The Three Little Piggies) that is more than 100 hours long and deals with the themes of Hitler, Goethe and Fassbinder.
Pavlov's Children will be performing live on March the 16th at the Finsbury, London.
With
Slowgun (live) Tim Burgess (dj) Nik Colk Void (dj) Throwing Up (dj) Hatcham Social (dj)
Pavlov's Children. Limited 7" vinyl with handmade embossed sleeves. Now Available!
Nor good nor evil book.
"Knowing that gold and excrement are akin in the subconscious, there is no either/or in the vacuum"
Two writings by Thomas LaRoche.
Limited to 20 hand numbered copies.
£ SOLD OUT
Please paypal to Researchlaboratories@hotmail.co.uk
(Please include name and address)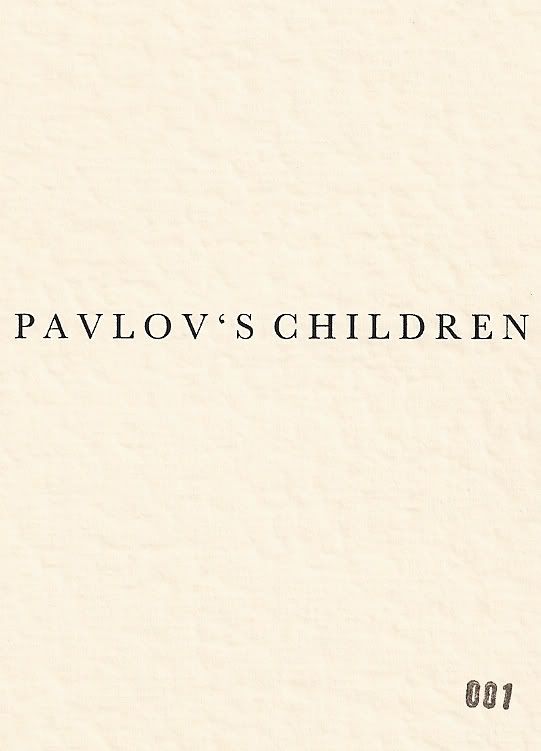 This C90 cassette from Pavlov's Children, with a textured card inlay, features hypnotic trance inducing synthetic patterns, minimal rhythm sequences, power tools, and tape loops interjected with distant repetitive vocals.
Limited to 100 hand numbered copies.

Cassette: £3.50
Postage:
£2.50 U.K
£3.50 Europe
£4.00 Worldwide
Please paypal to ResearchLaboratories@hotmail.co.uk
(Please include name and address).